In the course of applying for a National Churches Trust grant to develop new kitchens and toilets we received some feedback about other grants available. At about the same time the Diocese sent an email about the same grants, both Preventative Maintenance Micro-Grants and Foundation Grants. It occurred to us that having a high-level maintenance survey, part-funded by a Preventative Micro-Grant, made a lot of sense before we spent more funding on the inside of the church.
Quotes were received via MaintenanceBooker, a user-friendly IT portal which takes the stress out of tendering for contractors. It is a condition of the maintenance grants that contractors are booked via MaintenanceBooker as all contractors have been evaluated by National Churches Trust. Quotes arrived and one company, DBR Ltd, offered the option of a Drone Survey instead of the traditional cherry picker. Besides being cheaper, a drone survey is quicker (half a day instead of a full day) and more environmentally friendly as drones can be carried by car instead of the lorry required for a cherry picker.
Two drones were used, the larger one for overviews and a smaller one for tighter spaces and more focused shots. Our church is in the centre of the Council Estate that forms our parish; the drone was a talking point. Posting photos on community Facebook sites meant that we could tell people about the project and raise awareness of the work required to maintain the church buildings.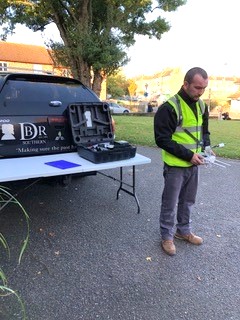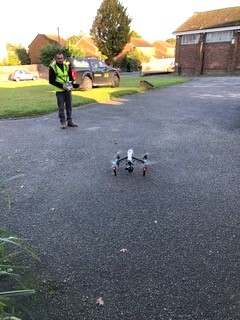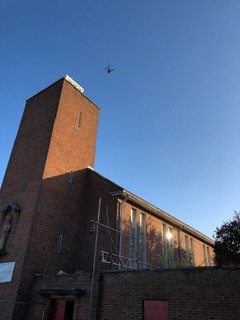 The full report will soon be available but, before he left, the drone operator (also a qualified stonemason) gave me a brief overview, on his IPad, of the 600 photographs taken. These revealed that the roofs are generally in good condition but there are broken tiles and edging to repair, so the PCC have already been warned that more repairs are needed.
The good news is that besides funding 50% of the cost of the drone survey we can apply for a Foundation Grant to fund up to 50% of the repair works. Without the help of the National Churches Trust grant we would have been unlikely to afford the survey. Our parish is in the top 10% most deprived in the UK, though surrounded by affluent Bromley. The survey has picked up things not revealed by the Quinquennial Inspection, because of the height of the building. Going forward we will build into our maintenance plan and budget provision for a regular high-level survey. In the meantime, we had better get fundraising again for the high-level roof repairs!