In September 2018 I received notification that the National Churches Trust (NCT) had launched an initiative called MaintenanceBooker, to assist churches in obtaining quotes for certain services from reputable suppliers. 
Aware that the lightning protection system (LPS) at St Mary's had not been tested for some time, I was interested to note that this was one of the offered services.  I registered with MaintenanceBooker and in February 2019 submitted a request for quotes to carry out an LPS inspection.  The process was a little daunting but help was readily available and two weeks later three quotes were received, which differed significantly.  I selected Brooke Edgley Specialist Technical Services Ltd (BEST) and then MaintenanceBooker instructed them to contact me to make the appropriate arrangements.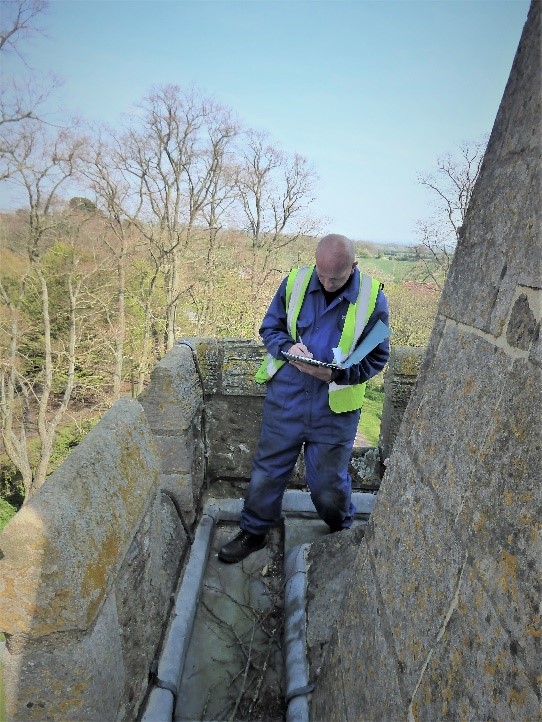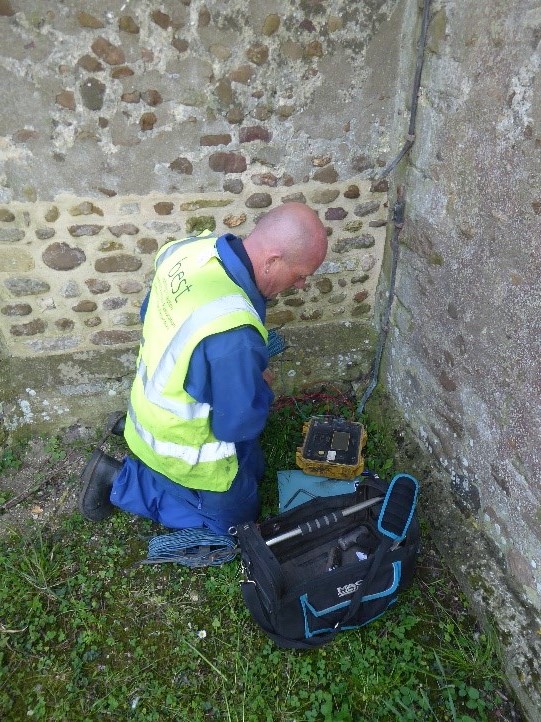 Testing of the LPS
The test was carried out in April and unfortunately one of the two lightning conductors on the tower did not have a sufficiently low resistance to pass the test. The other conductor passed, but required a modification.  The following day I received confirmation in writing from BEST, along with a quote for £344 (+VAT) to rectify the problem.  I contacted MaintenanceBooker and was advised to test its 'value for money' by submitting a request for other quotes.  I was also contacted by Michael Murray, the Executive Director of the National Churches Trust Heritage Services Ltd, advising me that 50% of the cost of the work would be eligible for a Preventative Maintenance Micro-Grant. 
I soon received three additional quotes from MaintenanceBooker, which indicated that the BEST quote was good value and I subsequently accepted it.  I also applied to NCT for a 50% micro-grant of £172, but then ran into a problem.  Since BEST had quoted me directly and not through MaintenanceBooker, the work was ineligible for grant aid.  However, I was advised to submit another request for quotes for the work, ensuring that BEST would respond on this occasion.  They did, I accepted the quote through MaintenanceBooker and the work was eventually carried out in July 2019.  I then reapplied for the grant and subject to certain terms and conditions, the grant was awarded to St Mary's.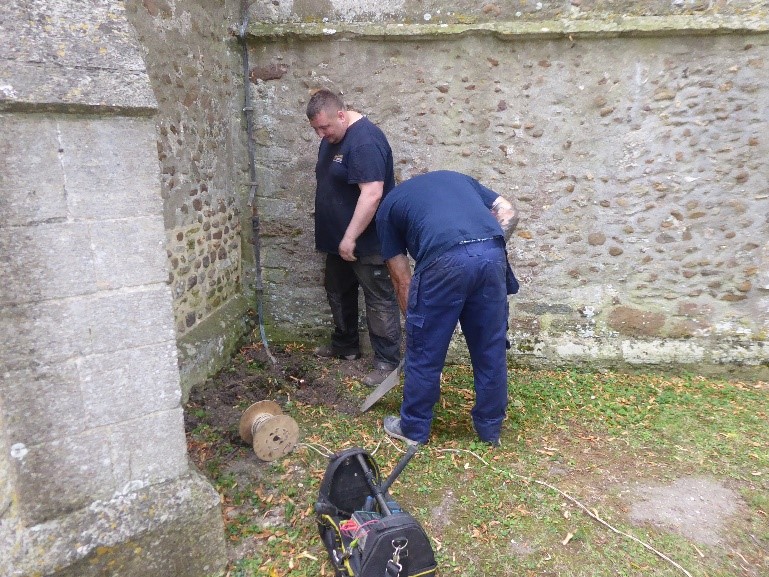 Modification and retesting of the LPS
Despite the unfortunate problem with the grant application, which was the consequence of MaintenanceBooker being a new venture and the procedures being unfamiliar, I feel that I have been provided with an excellent service.  I was able to choose a contractor with confidence and am entirely satisfied with the service received from BEST.  In addition, as a new user, the help and support I received from both Michael Murray and Cicely Barnett, a Church Support Officer at the NCT, was exceptional and I would have no hesitation in using MaintenanceBooker again.